Remy McCay
Remy McCay grew up in Cambridge, Massachusetts, studied under the illustrious Professor Mason Carroll, and owns half of an original edition of James Thurber's Many Moons.
He is the author of the Gift dyad, including Firesight and its sequel, Allgift, a novella called Enter Three Witches, a play called William Shakespeare's The Tragedy of King Arthur, a parable called Mors: The Last Chapter, a cycle called Gotterdammering, a haiku that hasn't been published, and five novels: Star and Her Children, Atman, The Sea, Our Sky, The Samurai's Wife, and The Voice of God in the Throat of the Dragon.
In the next year will be published his three volume interpretation of the whole of Kaleli myth: Antediluvia, Postdiluvia, and Nova Talu, authored in collaboration with Laurel Gadriner. Already available in connection with this publication is Gadriner's Kaleli Lexicon.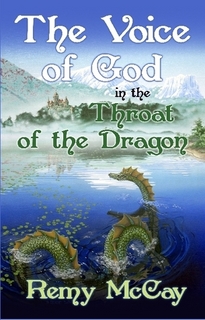 A Chronicle of Morgan's Island

Now on Sale
in paperback from
Lodestone Press


preview available
Also available as a
Limited Edition Hardcover